I had no idea about electricity in a dollhouse ,
so my eldest son and his friend were a big help!
Now, many years later, the lights still work perfect!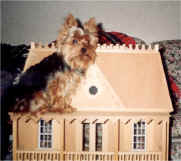 Elektriciteit aanleggen!
Toen had ik nog geen idee hoe dat moest;-))
Maar na al die jaren werkt het nog perfekt!